Kupi Assassin's Creed Brotherhood Deluxe Edition UPLAY Key (PC)

Cijena: 83,00 HRK
Žanr: Akcija
Status: U prodaji
Za download
Prilagođeno za dob: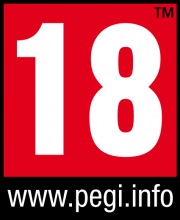 2 Exclusive Single-Player Maps: The Trajan Market & The Aqueduct
2 Multiplayer Characters:
The Officer - Death's Finest Ally: Few have seen him. Even fewer have lived to tell about it. Fear is his friend, and Death is his ally.
The Harlequin - The Walking Nightmare: Behind the gaudy costume and twisted smile lies the soul of a merciless Assassin.

1 Ezio Skin - Helmschmied Drachen Armor: Fashioned by the Helmschmied Armory in 1489, only a few sets were completed due to the weight of the metal. Very few men proved strong enough to wear it.
The Original Codex Written by Altaïr: Take a closer look at the history of the Assassins and art of Assassin's Creed Brotherhood.
Multiplayer Characters Collectible Trading Cards: A set of trading cards featuring all the characters of Assassin's Creed Brotherhood Multiplayer, including their kill moves and biographies.
Map of Rome
Assassin's Creed Lineage - The Complete Movie: Explore the events that revolve around Ezio's father, Giovanni Auditore da Firenze, and gain insight on the Assassin's Creed story and universe.
Making-Of Assassin's Creed Brotherhood - Behind the Brotherhood: Go behind the scenes with the development team to learn about how the game was made and Ezio's continuing story.
Game Soundtrack: 22 songs from the original game soundtrack by Jesper Kyd.
Digital Premium Edition content is only available via download
ABOUT THIS GAME
Live and breathe as Ezio, a legendary Master Assassin, in his enduring struggle against the powerful Templar Order. He must journey into Italy's greatest city, Rome, center of power, greed and corruption to strike at the heart of the enemy. Defeating the corrupt tyrants entrenched there will require not only strength, but leadership, as Ezio commands an entire Brotherhood who will rally to his side. Only by working together can the Assassins defeat their mortal enemies. And for the first time, introducing an award-winning multiplayer layer that allows you to choose from a wide range of unique characters, each with their own signature weapons and assassination techniques, and match your skills against other players from around the world. It's time to join the Brotherhood. Key Features
BE A LEGEND – Take Ezio, now a legendary Assassin, on a new adventure with 15+ hours of story-driven single-player gameplay.
LEAD AND CONTROL A LEGENDARY BROTHERHOOD – Recruit and customize your own guild. Train and level up assassins and command them to aid you in your quest.
DEPLOY SECRET WEAPONS – Swiftly eliminate your enemies using tools such as poison darts, parachutes, double hidden blades, hidden guns, and an advanced flying machine at your disposal.
WIN THE HEART OF A CITY – Use your hard-won currency to revitalize the crumbling capitol city. Rally the citizens to your cause and unlock extra factions and missions.
AWARD-WINNING MULTIPLAYER – Choose from multiple authentic character classes, each with their own signature weapons and killing moves. With richly detailed maps and a wide variety of unique multiplayer modes, you'll never fight the same way twice.
BONUS CONTENT:
Project Animus Update #1 Multiplayer DLC: To survive the treacherous, narrow roads and the multi-leveled architecture of the Mont Saint-Michel map and the challenging Advanced Alliance multiplayer mode, Abstero recruits will need to use free-running and refined hunting skills to their advantage.
Project Animus Update #2 Multiplayer DLC: The Pienza Map provides the perfect free-running playground where predators and targets can blend and disappear. In the Chest Capture Multiplayer Mode two teams comprised of three players each partner with fellow Templars to either defend or capture Chests. Also included is the new Templar Score feature to reward diligent work by Abstergo recruits.
The Da Vinci Disappearance Single-Player and Multiplayer DLC: After the fall of the Borgias, Leonardo Da Vinci is kidnapped and Ezio will embark on a relentless quest to recover him discovering new locations and gameplay features. The multiplayer addition is the biggest expansion to the award-winning multiplayer yet, including a new map, new characters and game modes.
Dodaj u košaricu